Phase I of the Central Avenue streetscape was completed in summer of 2015 and involved full-depth composite pavement reconstruction of approximately 2,750 feet of Central Avenue from Baltimore Street to Madison Street. The roadway work included new storm drainage systems, new traffic signals, new roadway lighting, electrical duct bank replacement, and extensive maintenance of traffic phasing. The streetscaping included installation of bump-outs at intersections to reduce crossing distances, installation of raised landscaped medians, shared bicycle lanes, pedestrian lighting, ADA-compliant sidewalks, driveways and ramps, brick paver accents along curb line, tree pits, and street furnishings.
As a continuation of the Phase I project, Phase II of the streetscape improvements (from Baltimore Street to Lancaster Street) will be included as part of the City's first design-build project. Phase II will continue the activities performed in Phase I, such as new storm drains, new traffic signals, roadway lighting, electrical duct bank replacement, and beautification and safety improvements.
---
Renderings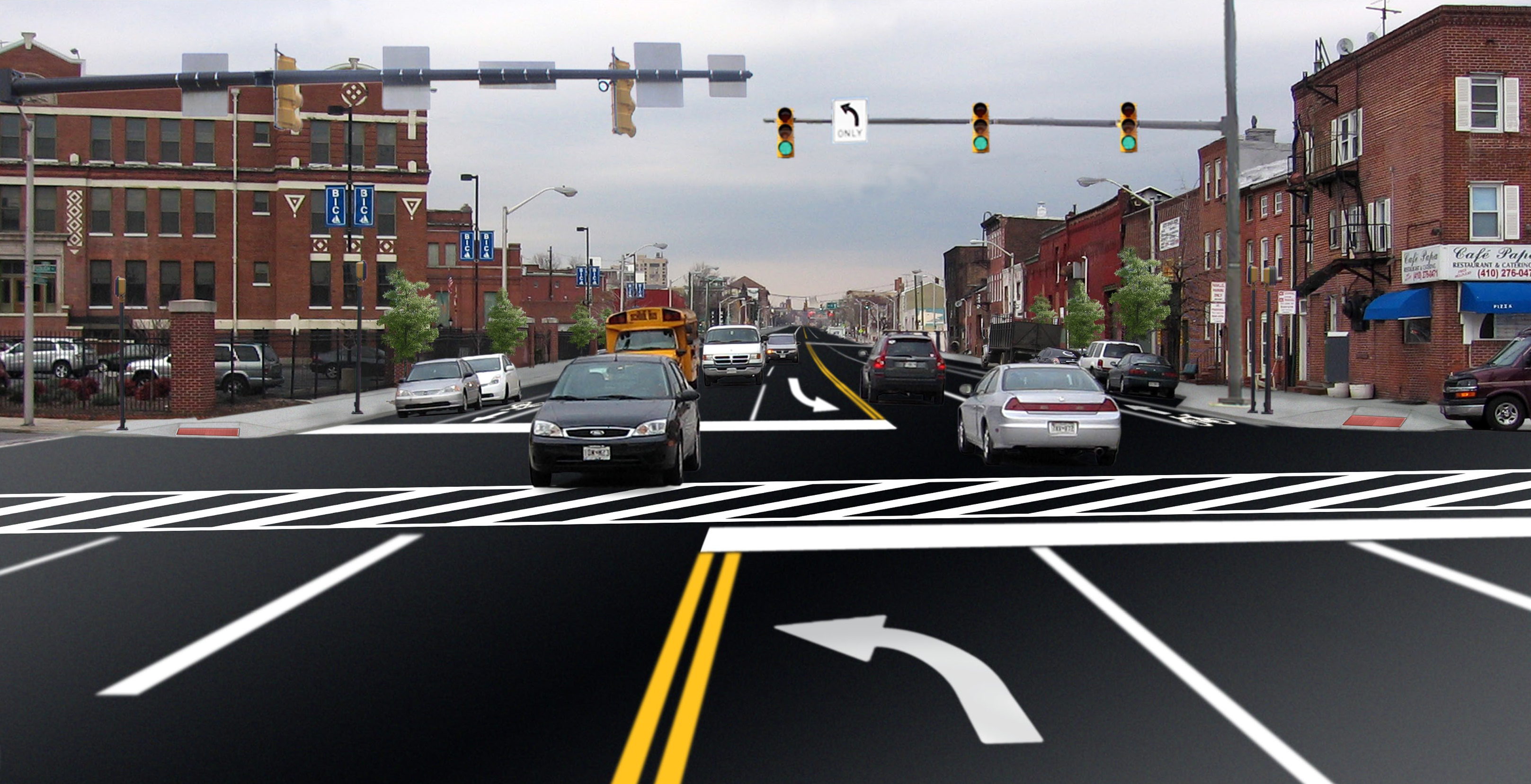 Central Avenue Traffic Signals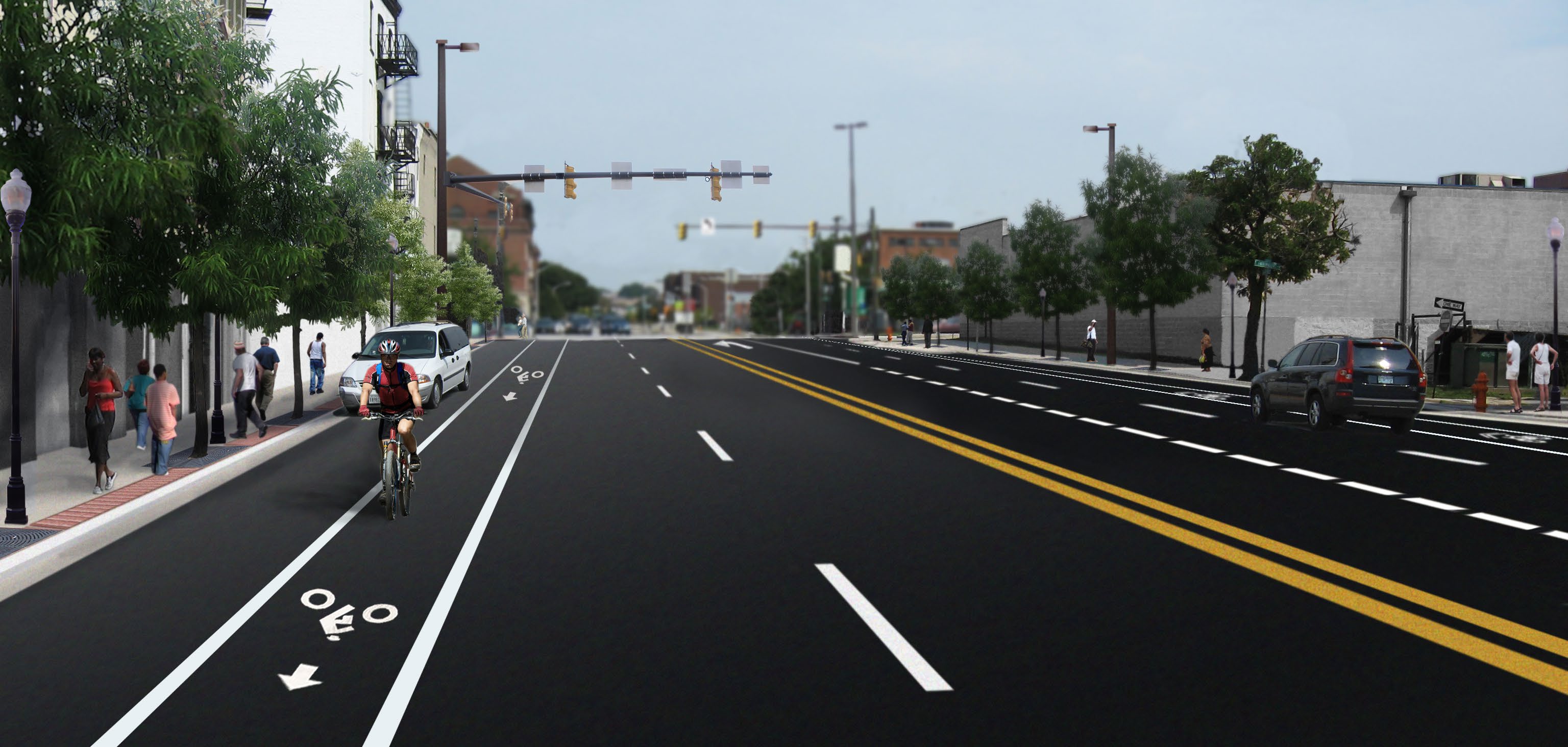 Central Avenue Bike Lane

Central Avenue Streetscape Typical Section
Additional design drawings coming soon.
---
Artist Involvement
Baltimore City has committed to providing 1% of the local match cost of the project to the Baltimore Office of Promotion (BOPA) and the Arts as part of its "1% for public art" program. While this funding is wholly separate from the design-build contract, the Design-Builder will account for coordination with the artist selected for this project. The artist may have involvement on the project that occurs concurrent with the design-build process.
Graham Coreil-Allen of Graham Projects and Falon Mihalic of Falon Land Studios were selected by BOPA for this important project.
---
Artists
| | |
| --- | --- |
| | |
| Graham Coreil-Allen is a Baltimore-based public artist and organizer working with diverse communities to make cities more inclusive and livable through public art, civic engagement, design, and communications. Born in Galveston, Texas, and raised in Tampa, Florida, the public artist studied at Tulane School of Architecture in New Orleans, completed his BA at New College of Florida in Sarasota, and received his MFA from Maryland Institute College of Art's Mount Royal School of Art in Baltimore. He has staged public projects and programs for numerous organizations, places, and events both nationally and abroad, including the Baltimore Office of Promotion and Arts, 99% Invisible, The Deitch/Creative Time Art Parade, Eyebeam, openhouseNY, Washington Project for the Arts, Arlington Art Center, Artscape, Transmodern Festival, VisArts, Current Space, and ICA Baltimore. Coreil-Allen was an invited artist in the US Pavilion at the 13th International Venice Architecture Biennale, was selected for an inaugural Rubys Artist Project Grant, and is a founding leader of Citizen Artist Baltimore. | Falon Mihalic is an award-winning landscape architect, writer, and professional artist. Her recent awards include the winning commission for the Central Avenue Public Art project in Baltimore, the winning competition entry for RE: Projects in Dallas, and an Emerging Artist Award from the Houston Arts Alliance. A Florida native, Falon has a degree in Natural Sciences from New College of Florida and a Master of Landscape Architecture degree from the Rhode Island School of Design. She is the recipient of the distinguished Dan Tuttle Endowed Scholarship Award for Design Excellence and the American Society of Landscape Architects Graduate Honor Award. Prior to founding Falon Land Studio, she practiced as a landscape architect at Sasaki Associates where she was the Lead Plant Designer for the Arlington National Cemetery Expansion Project, and a project designer for campuses, urban plazas, children's gardens, and an ecological resort. |